| | |
| --- | --- |
| | |
| Presenter: Ramon Lee, MD | Discussant: Vivek Patel, MD |
History
29-year-old male who presented with 2 weeks of gradual "darkening" of vision simultaneously in both eyes
PMH of HIV/AIDS (CD4 94, recently restarted HAART 3 months ago), recurrent cryptococcal meningitis s/p VP shunt, diffuse large B cell lymphoma s/p chemotherapy, and testicular cancer s/p orchiectomy
Reports lethargy, but denies nuchal rigidity, photophobia or headache
Exam Findings
VA: 20/400, 20/150
IOP: 9, 10
Pupils: RR OU, + RAPD OD
Brightness sense: wnl
Red saturation: 50% decreased on OD
Color plates: 1/9 OU
EOM: full OU
SLE: unremarkable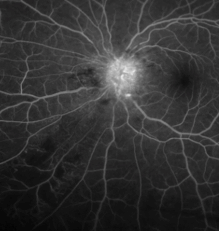 Differential Diagnosis
Consider papilledema vs. non-papilledematous disc edema
If elevated ICP (indicating papilledema), consider infectious etiologies (recurrent cryptococcal meningitis and associated impairment of arachnoid granulations), malignancy (CNS lymphoma, metastasis) or mechanical etiology (VP shunt malfunction)
If normal ICP, consider infiltrative optic neuropathy (cryptococcal infiltration, lymphomatous infiltration) or other opportunistic infection (CNS toxoplasmosis, brain abscess, etc.)
Also need to keep immune reconstitution inflammatory syndrome (IRIS) and progressive multifocal leukoencephalopathy (PML) on differential
Additional Investigations
VP shunt evaluation: no elevation of ICP
CSF studies: Cryptococcal antigen 1:160
MR spectroscopy: more consistent with infectious rather than malignant etiology
Diagnosis
Cryptococcal optic neuropathy/neuritis
IRIS producing worsening brain parenchymal involvement with involvement of optic tracts
Pathophysiology
With the determination of normal ICP, it was concluded that the optic neuropathy was most likely related to infiltration  and inflammation of the optic nerves secondary to worsening cryptococcal infection rather than the more commonly seen scenario of papilledema secondary to elevated ICP from cryptococcal meningitis. It is estimated that approximately 75% of patients with cryptococcal meningitis will develop elevation of ICP (often severe) thought to result from the depositing of proteins and inflammatory by-products along the arachnoid granulations. This impairs absorption of CSF. In our case, the hypothesis of worsening cryptococcal infection was supported by the observed increase in enhancing cystic lesions on follow-up brain MRI. There is also likely a component of IRIS given the patient's history of cryptococcal infection and re-initiation of HAART 3 months prior. The worsening parenchymal edema on MRI is consistent with this heightened inflammatory response.
Treatment
High dose oral Prednisone
Fluconazole
Continued HAART
Prognosis and Future Directions
Mainstay of treatment is to continue to treat the presumed underlying infectionwhile attempting to mitigate the immune reconstitution inflammatory response with steroids while continuing HAART
Our patient experienced improvement in vision bilaterally, reduction in disc edema and associated hemorrhages with the above treatment
Needs close follow-up for potential development of recurrent elevation of ICP
If worsening white matter involvement despite adequate anti-microbial control, then PML will need to move up on the differential, potentially requiring brain biopsy
References
Park BJ et al. Estimation of the current global burden of cryptococcal meningitis among persons living with HIV/AIDS. AIDS. 2009 Feb 20;23(4):525-30.
Desalermos A et al. Update on the epidemiology and management of cryptococcal meningitis. Expert Opin Pharmacother. 2012 Apr;13(6):783-9.
Perfect JR. Clinical practice guidelines for the management of cryptococcal disease: 2010 update by the Infectious Diseases Society of America. Clin Infect Dis. 2010;50(3):291.
Portelinha J et al. Bilateral optic neuropathy associated with cryptococcal meningitis in an immunocompetent patient. BMJ Case Rep. 2014 Jun 11;2014.
Merkler AE et al. Direct Invasion of the Optic Nerves, Chiasm, and Tracts by Cryptococcus neoformans in an Immunocompetent Host. Neurohospitalist. 2015 Oct;5(4):217-22.
DeSimone JA et al. Inflammatory reactions in HIV-1-infected persons after initiation of highly active antiretroviral therapy. Ann Intern Med. 2000;133(6):447.
French MA et al. Immune restoration disease after the treatment of immunodeficient HIV-infected patients with highly active antiretroviral therapy. HIV Med. 2000;1(2):107.
Khurana RN et al. Ophthalmic manifestations of immune reconstitution inflammatory syndrome associated with Cryptococcus neoformans. Ocul Immunol Inflamm. 2008 Jul-Aug;16(4):185-90.
Contact
Produced by: Monica Chavez, John Daniel, Joseph Yim and Dr. Vivek Patel